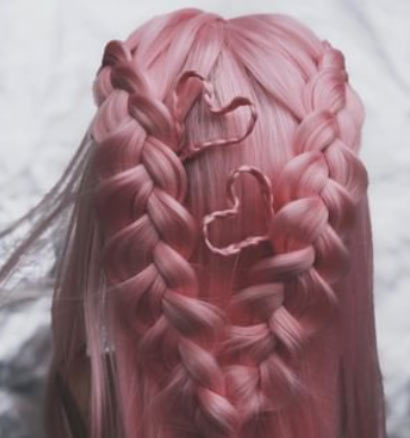 11 Of The Most Romantic Hairstyles Trending For Valentine's Day
Trending Hairstyles 2021: Show your hair and your partner some love with a romantic hairstyle. Here are 15 trending romantic hairstyles for Valentine's Day 2021 for inspiration.  
While there are the cynics out there who believe Valentine's Day has become overly commercialized, I am a sucker for love and romance. 
I love creating hairstyles that make you feel radiant and romantic which is why I love being a stylist, especially when I get to help you celebrate love on Valentine's Day with a heart-melting hairstyle. 
The trending hairstyles for Valentine's Day 2021 includes the traditionally romantic updos and curls, of course. But this year is different. This year, Valentine's inspired color is making a major splash. 
So before the dinner, champagne, and chocolates, your ultimate Valentine's Day date should be with your stylist. If you're in the Dallas area, book an appointment for a Valentine's style that will put love in the air everywhere you go. 
If your love life is lacking, celebrate your singularity with jaw-dropping romantically creative hair. 
1.  Insta-fabulous Valentine's Inspired Color
https://www.instagram.com/explore/tags/valentineshair/?hl=en
From swoon-worthy crimson and pale lilac or bubble gum pink to multi-color balayage and everything in between, these Instagram trending colors and styles are sure to bring out the dreamy romantic in even the most hardened cynic. 
2.  All Over Up-Do
Image courtesy of luxyhair.com
For heart-stopping hair, this romantic updo is filled with little hearts created from your hair. It looks effortless on the surface but to achieve that look of romantic ease takes meticulous care, time, and patience, just like a relationship. 
3.  Romantic Airy Waves 
Whether your hair is short or long, big waves and large ringlets are a simple way to put the love in your hair. Achieved with strategic sectioning of your hair and a larger barrel curling iron, these waves are sure to put a little love in your life. 
4.  Ponytail With A Floral Flare
Create the look of your favorite flower with this romantic updo. Using braids and twists that are strategically placed in the shape of a rosette, match the bouquet of your significant other or secret crush sends. Pair this with a light and airy boho dress for that air of romance that will make them blush. 
5.  The Heart Bun Is Heating Up Instagram
We stylists prefer you wear your heart on your hair and, based on what's trending on Instagram this Valentine's, it looks like you agree. 
To achieve this sweetheart updo requires twisting, shaping, and strategically placed pins to hold it in position. Depending on the length, fullness, and the cut of your hair, the heart will vary in size and fullness but will always look adorable.
6.  Breathtakingly Beautiful Bun Updo
This romantic updo is as stunning as it is intricate. The drama is achieved by creating this mega bun from twisting and turning your hair. For those who are blessed with long, thick hair, this updo can be created with your hair alone. For the rest of us, teasing and hairpieces or extensions are a must. 
For the perfect look, pair this updo with an off-the-shoulder top or dress and a delicate necklace for a beautiful silhouette.
7.  60s Inspired Half Up/Half Down Dos
When it comes to voluminous expressions of love, half up/half down hairstyles are the most romantic. This romantic look is achieved through teasing the hair around the crown of your head, braiding, twisting, weaving, it into whatever shape or design you desire, and pinning it firmly in place. The hair is then curled in small sections to complete this heart-skipping romantic hairstyle. 
Half up/half down Valentine's Day hairstyles are breathtaking on any hair length, color, and style. 
For more romantic half up/half down inspiration to spice up your Valentine's Day, check out 50 Half Updos for Your Perfect Everyday and Party Looks.
8.  Updo Worthy Of Short Hair
Using a bedazzled or flowery hairband, this enchanting updo can be achieved even if you don't have long luscious locks. 
9.  Full Hair Braided Updo
Long or short, layered or not, braided updos are beautiful. 
This look is achieved with a loose braid with the ends touched underneath and pinned securely but looks just as sensational with a fishtail, double or triple braiding, cornrows, or any other kind of braid you can dream up! 
10.  Long Braids For Mythical Romanticism
Half up or full hair braids are wonderful ways to capture mythical romanticism for Valentine's Day. 
11.  Old Hollywood Romance With Jewelled Accents
Whatever hairstyle you choose to wear this Valentine's Day, adding a little old Hollywood glamour with jeweled bobby pins and clips is sure to give even the simplest style the romantic dazzle it deserves. 
To get your perfect Valentine's Day style, talk to your stylist or come into my Plano luxury boutique salon for a romantic styling consultation or message me on Instagram or Facebook.  
To discover more hairstyle ideas that are trending this Valentine's Day: 
https://www.luxyhair.com/blogs/hair-blog/perfect-hairstyles-for-valentines-day
https://www.cosmopolitan.com/style-beauty/news/g4552/heart-hairstyles/
https://www.stylecraze.com/articles/3-romantic-hairstyle-ideas-for-valentines-day/