About
PROFESSIONAL PLANO HAIR STYLIST
Hi, I'm Sandi
As a professional hair stylist in Plano my mission is to exceed your expectations. Not only will you look sensational but your hair will be healthier than it was when you arrived. I guarantee it.
Hair
1611
Different Hairstyles
Passion
Master hair stylist PLANO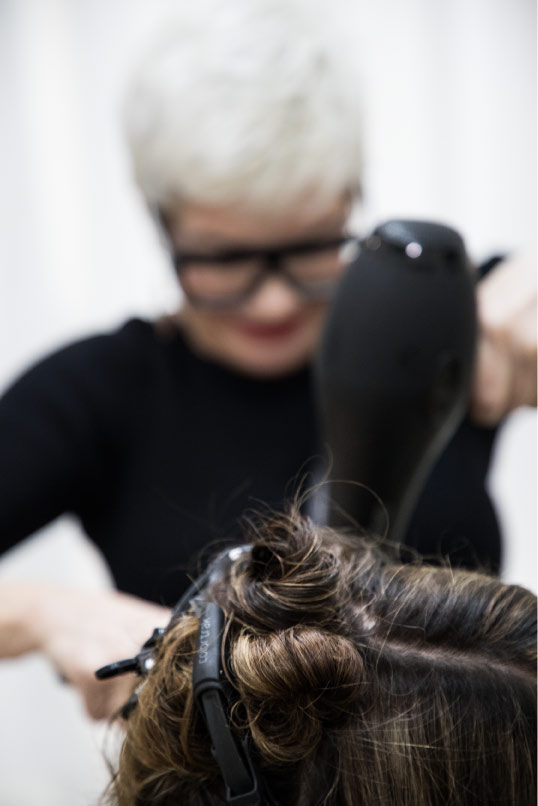 "As lead facilitator to top ranked salons around the world, I always felt there was something missing. While my experiences were amazing, I wanted to create a space where clients felt special and given my undivided attention. I opened an exclusive Professional boutique salon in Plano, Texas where I provide a uniquely individualized experience to each of my clients."
PLANO expert hair stylist And professional trainer
Your hair is in the hands of a Plano's professional hair stylist when those hands are Sandi Arensman's. Her list of credentials and accomplishments is extensive. Before launching Hair By Arensman in 2014 she left a prestigious position as Lead Test Salon Coordinator for Sally Beauty Holding, LLC Professional Beauty Supply Stores.
Over the course of her professional hair stylist career, Sandi has owned a total of 7 salons and 2 day spas and spent over 2 decades on 5th Avenue, New York, NY for Lorèal, Redken as a Master Trainer. 
Sandi creates looks for movies, commercials and photo shoots around the world including runway models for New York Fashion Week.  She's designed hairstyles for celebrities Brad Pitt, George Clooney, Beyonce, Brittany Spears, John Travolta, Yoko Ono and Hillary Clinton.
Her expertise has been called upon for design, imagery, styling and naming of professional hair care products, including providing instructional copy and technical literature for product packaging, billboards and advertisements. 
She is regularly interviewed for contribution of her expertise in trade and commercial magazines for manufacturers worldwide. Through education she has converted salon owners, managers, education directors, and hair stylists towards the use of more superior haircolor product lines. She makes guest appearances for beauty schools across North America. 
Sandi has created her own private line of professional haircare products. These mineral-based products are anti-aging, sulfate and paraffin free. They are also made with non-carcinogenic fragrances,  specifically crafted to maximize your hair's potential.  Shop Hair by Arensman today!
For a sampling of articles written about Sandi Arensman, check out her Press page.
PROFESSIONAL PLANO HAIR STYLIST
PUBLISHED IN RECOGNITION OF OUTSTANDING SERVICE AND TECHNIQUE OVER 30 YEARS:
Gilded Magazine of Photography (New York)
Editorial Styles & Interviews Published in Coiffiure Que (Japan)
Laurent (Poland)
Color and Style (US)
Hair's How (Russia)
Your Hair Magazine (UK)
Celebrity Hairstyles (US)
Peluquerias (Spain)
Modern Salon (US)
American Salon (US)
Process (USA)
Coiffiure Professional (US, Canada, Portugal, Russia, Japan & Spain, China, France, UK, and Australia)
Black Hair
Hair Styling Trends
Color & Style
101 Hairstyles
Whose Who
Canadian Hairdresser Journal
Huntington Journal
SANDI ARENSMAN'S EXPERTISE INCLUDES:


Master Stylist
Master Colorist
Makeup Artistry
Session Celebrity Stylist
Style Consultant
Designed Custom Color Swatch Books
Partnered with world-renowned Chemist To Create My Custom Product Line
Winner
best hair stylist IN PLANO—2 YEARS IN A ROW
Timeline
PROFESSAION HAIR STYLIST IN PLANO
Sandi Arensman
hair by arensman—boutique salon owner
Entrepreneur and owner of boutique salon that specializes in personalized cuts, haircolor and styles.
SALLY BEAUTY HOLDING, LLC— lead salon test coordinator
Presented main stage platform education for ion brand haircolor. Also created haircolor techniques on all models for the Ion brand.
Supervised extensive performance testing of 200+ hair care and color brands; made purchasing recommendations; controlled supplies and inner workings of test salon.
Generated the vision for Sally Beauty Supply's 50th anniversary photo shoot, which appeared in Modern Salon magazine and on all corporate social media platforms. Selected all models and executed the color, cuts and finishing work.
Session stylist at all corporate functions.
PROCTER & GAMBLE, CINCINATTI, OH — PROFESSIONAL CARE EXCLUSIVE LINE - EDUCATION KEY ACCOUNTS
Provided in-depth training for new Account Executives on proprietary and exclusive lines in their given territories.

   

 
Managed a team of 20 contract representatives for Wella, Sebastian and Nioxin brands; increased new distribution accounts by $563K in just 3 months. 
Won over 42 conversion accounts to P&G, which represented $80K in sales. 
Cultivated revenue via mini-shows for high-volume accounts, generating up to $3M in sales.
Acted as the company's Ambassador for all VIP events; stylist, sales and national accounts; school and distributor events.
Delivered 1-on-1 sales training to reinforce confidence, performance and alignment with corporate standards.
PROCTER & GAMBLE, CINCINATTI, OH — North american lead colorist chain accounts
Streamlined adoption of new products by expanding national account sales via innovative-and-shared salon aids. These efforts captured $120k in new salon sales.
Maximized sales through design of custom color chart; formulated color intensity range and championed chart approval by P&G.
Propelled national account sales by 300% and recaptured expiring Regis account by leading a mission-critical, national-blind color test.
PROCTER & GAMBLE, CINCINNATI, OH — professional service national teams education
Developed the advanced team's knowledge of color by presenting at national sales meetings with 500+ attendees.
Pushed salon sales by 136% in 4 months, leveraging an open communication style and facilitating fun, interactive salon classes.
l'oreal, austin tx & REDKEN (NY, NY) — SALON and day spa OWNER, MASTER TRAINER/CHAIN ACCOUNTS
Launched salon/day spa from ground up and propelled sales by 800%, while serving as Lead Colorist for Redken's IC Education Team
Repeatedly promoted to increasingly responsible trainer-and-creative roles for Redken. Became 1 of 5 Master Trainers nationwide, and served as Lead Colorist for Redken's largest symposium.
Ranked #1 out of 102 Redken educators in Texas.
Won North American Hairstyling Award in the Makeover Category, and Most Distributor Sales for Armstrong McCall, RDA.
Earned Artistic Achievement Award from Beauty System Group's Quality Education.
business management coursework
dodge city community college
2019 best of plano hair salon
2020 best of plano hair salon
north american hairstyling award
national association of professional womean dallas museum of art
Locks of Love, and Battered Women and Children's Programs
NORTH AMERICAN ACADEMY AWARDS OF HAIR
professional beauty association
Get shiny, satin-soft, healthy hair advice from Master Hair Stylist, Sandi Arensman, including Special Offers! Subscribe below to stay connected.
They said
"
"...the absolute BOMB in color correction!!!"
Sandi is the absolute BOMB in color correction!!! I had VERY dark red/auburn hair and Sandi got me to a healthy, beautiful blonde after a first attempt to lighten it went HORRIBLY WRONG!! She saved my long hair and chose the loveliest almond blonde which compliments my brows and skin tone….she's a life saver!!
"Hair Color Disaster..."
"I had a hair color disaster and Sandi took her time and we walked through what she would suggest, she even took the time to go through old pictures of me to see which hair color best suited by skin and eyes. I was very happy with the outcome. Will continue to go to her and would highly recommend her!"
"I haven't been to a hair salon in a year..."
"I had my first appointment with Sandi today. I haven't been to a hair salon in a year due to concerns with the pandemic and my hair was a complete mess!! Sandi was great! She took her time to evaluate my features and explain what she thought would look good while also really listening to me about what I wanted my hair to look like. She is a perfectionist and will only be satisfied when her clients are satisfied. And I am a very satisfied client!! I love what Sandi did with my hair today, it was exactly what I wanted and more. What a great experience! I can't wait to go back!"
"Love my beach waves"
"Sandi's passion for great hair shows! She took great care of me and my hair by teaching me ways to KEEP great hair color. Her sense of style is on point. Thank you, Sandi, for a terrific beachy waves style!"
"You will love her!"
Always a pleasant experience. Love to watch Sandi create my new Doo's. She always gives me a hairdo that gets plenty of stops, I've had to get business cards from her to pass out. We also have a blast, you will love her. And her products are the bomb, my favorite is her Deep Treatment conditioner, my hair loves it! Thank you Sandi!
Awesome haircut
"Thanks for the awesome haircut, hair color and style Hair by Arensman. Loving it. It's easy to style and great for any occasion. And, healthy hair with vegan products. Top notch service and great hair knowledge."
"If you're looking for a new hairdresser..."
Sandi was an answer to my prayers. I've been looking for someone to be a team-advisor in my hair cut, color, and style. She is perfect! Knowledgeable expertise plus she's so adorable. If you are looking for a new hairdresser... this is your gal!
"great location in Plano/Frisco area"
"Sandi really knows hair! Her skills are unmatched. Her room is located in a great location in Plano/Frisco area. I was very pleased how clean her shop was and the wine was fabulous! A master stylist with her own product line! Very impressed! I would definitely recommend friends and family to Sandi, at Hair by Arensman."
"She is very honest and really cares about her clients!"
"Sandi did an amazing job on my hair! It was in rough condition and she made it healthier and beautiful! She is wonderful, caring, sweet, and DOESN'T push anything on you. She wants you to be happy with the outcome. She is very honest and really cares about her clients! Her pricing is very reasonable too!"
"Really Cares"
"Sandi was amazing. She is so knowledgeable and really cares about the client. You can tell she loves what she does, and she's very good at it!"