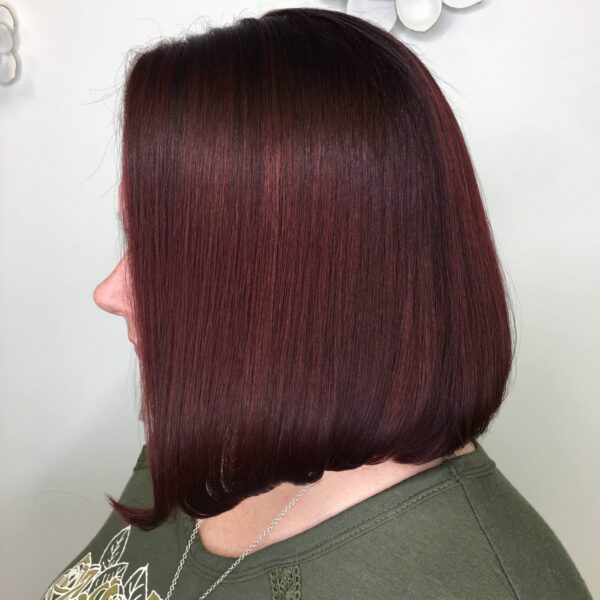 Must-Have Hair Color for the Holidays
Who wants to see gray roots in the family Christmas pix or faded highlights in your New Year's Eve selfies? The whole "point-of-hue" for the holidays is get a color upgrade that enhances or refines what you have and works with any outfit to make your color pop in every picture!
If you're blonde, balayage highlights, placed close to your face, add more overall dimension, as well as brightness. Of course, another approach is to add a color accent, such as a flash or red or green, just on one side or underneath surface strands. With the latter approach, you can put your hair up and have your color flash (or flashes) suddenly show up and glow.
Brunettes and redheads can benefit from painted-on balayage highlights, too! Once they're perfectly placed to work with your cut, they can be toned for a warm glow in cinnamon, gold, copper or even dark chocolate for a twist. If want them to continue to add a taste of blonde to your shade, a clear glosser or subtly tinted one adds the extra shine boost that makes hair look healthier and allows it to shimmer without using a photo filter to fake it.
Anyone with gray roots will want to make them go away and the newest way to do it is with root shadowing. An intentionally deeper root is extended a bit beyond your regrowth and then it gets feathered, blended and diffused into the rest of your hair color for gray-root camouflage that looks perfectly natural under any lighting situation.
Finally, for that super sparkle and shine that says it's a luxe time of year, ask about an overall glosser that boosts shine, seals in your color or adds a hint of tint. Just ask for a clear shine glaze or a subtle color glosser. Even if you don't change your color at all, one of these can add just the surface shade refresh that dazzles for weeks.
However you pump-up your color for the holidays, don't forget to finish your style with my Hair by Arensman Amethyst Oil, which makes your hair color pop while adding luminous shine.
Give me a call to find out more.
Happy Holidays and Stay Beautiful!
Sandi