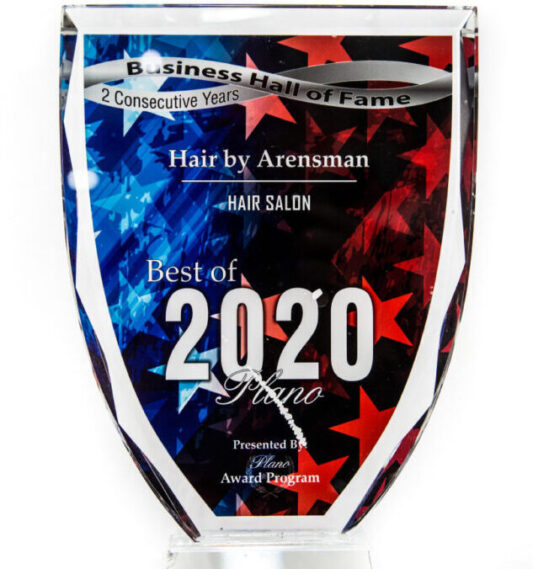 2020 Best of Plano Award
best hair salon PLANO  — Hair by Arensman has been selected for the 2020 Best of Plano Award in the Hair Salon category by the Plano Award Program.
---
Each year, the Plano Award Program identifies companies that we believe have achieved exceptional marketing success in their local community and business category. These are local companies that enhance the positive image of small business through service to their customers and our community. These exceptional companies help make the Plano area a great place to live, work and play.
Various sources of information were gathered and analyzed to choose the winners in each category.  Winners are determined based on the information gathered both internally by the Plano Award Program and data provided by third parties.
About Plano Award Program
---
The Plano Award Program is an annual awards program honoring the achievements and accomplishments of local businesses throughout the Plano area. Recognition is given to those companies that have shown the ability to use their best practices and implemented programs to generate competitive advantages and long-term value.
The Plano Award Program was established to recognize the best of local businesses in our community. Our organization works exclusively with local business owners, trade groups, professional associations and other business advertising and marketing groups. Our mission is to recognize the small business community's contributions to the U.S. economy.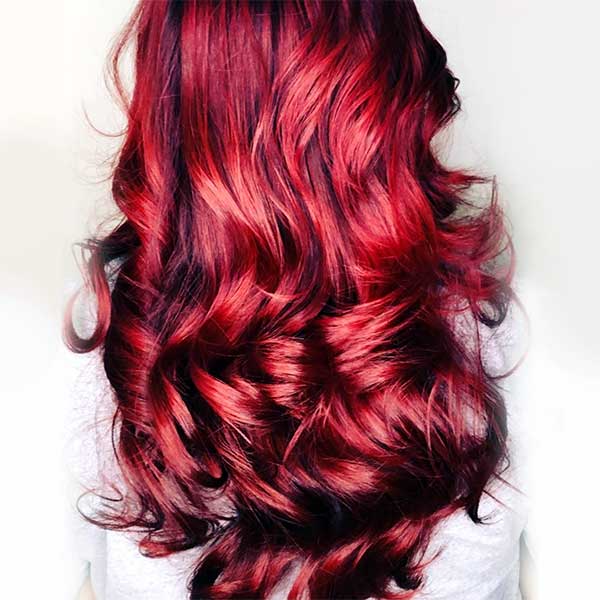 Becca
Google Verified Local Guide
Amazing results, perfect haircut to showcase my length, left with high quality products and feeling pampered! Corrected my bad haircut from earlier that morning and my year of bad "box dye jobs at home"! Absolutely loved it!!!!!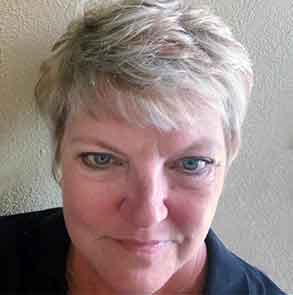 Kay Carter
@KayHensarlingCarter
Walking into Sandi's salon, immediately I felt welcome and like we had known each other forever. Her path is truly a journey to more, better, best. I am a huge fan of Sandi's product line. I have curly fine hair and yes I am a color worshiper. I use the styling foam, amethyst oil, finishing spray and leave in hair care. These are just amazing, I do not have bad hair days anymore. I am adding a product in the near future and I can not wait to share the results. Hooray for healthy hair.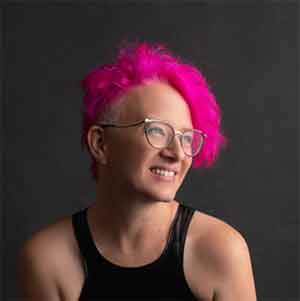 Jen Shu
@pinklightimages
I had a wonderful time meeting Sandi through a friend that recommended her! She was able to create (and re-create) my signature PINK color - the process was great and the color has a wonderful sheen to it! She also hooked me up with a color-infused conditioner which really helps my hair since I hadn't conditioned in a long time! (i have natural curls) - and she is a fun personality and i LOVE her salon decor!

Michelle Miller
Google Verified Local Guide
I went to see Ms Sandi for the first time with a bad haircut I had received & my color was quite yellow. She not only gave me a cut I can live with as my hair grows back, she made my color look new & fresh. She conditioned my hair back to soft & manageable. She is now my Salon!! She spent alot of time with me & her prices are definitely on point for what she offers.

Teressa Thomas
Google Review
I had my first appointment with Sandi today. I haven't been to a salon in a year due to concerns with the pandemic and my hair was a complete mess!! Sandi was great! She took her time to evaluate my features and explain what she thought would look good while also really listening to me about what I wanted my hair to look like. She is a perfectionist and will only be satisfied when her clients are satisfied. And I am a very satisfied client!! I love what Sandi did with my hair today, it was exactly what I wanted and more. What a great experience! I can't wait to go back!

Emily Powell
Goolge Review
Sandi is by far the best hairdresser I've ever used. She listens with an open mind, intelligent , and fun to talk to, and very talented at what she does. I highly recommend her.

Allyson Sign
Google Verified Local Guide
Wow! My hair is the most beautiful and healthiest it has ever looked. My blonde highlights are gorgeous! Sandi is a true artist. She took time to look at my skin tone and eye color to give me the highlights that make my face pop! The cut and style she also gave me is perfect. I am getting compliments everywhere I go.
Hair
PROTECT • NOURISH • CONTROL •
Luxury Professional Hair Products
Formulated and tested by expert hair stylist, Sandi Arensman, the must-have line of professional hair care products providing phenomenal performance, feel and fragrance.